Cooking at Home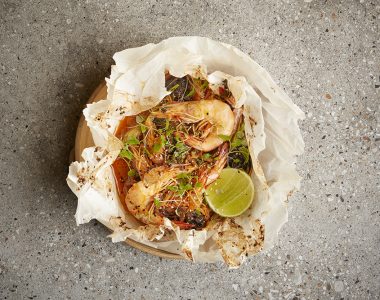 Ingredients
3 tbsp Kimchi sauce
250g Butter, soft
2 tbs Kikkoman soy sauce
2 Lime
1 tsp Ginger, minced
1 clove Garlic, minced
1 tsp Shallots, minced
1 Red chili, minced
4 King prawns
150 g Salmon
4 King oyster mushrooms
Shiitake mushrooms
Shimeji mushrooms
Kikkoman sauce used in this recipe

Naturally Brewed Soy Sauce
TOTAL TIME
22mins Serves
4 Cook time
12mins Prep time
10mins
King Prawns with Kimchi Butter & Lime
Method
Preheat oven to 180 degrees
To make Kimchi butter simply mix Kimchi sauce, soft butter, lime rind, ginger, garlic and shallots together in a bow until combined, chill until needed.
On a large piece of parchment paper 30cm square add 1 cup of cooked rice, layer the oyster mushrooms on top of the rice then stack your clean the prawns making sure they don't overlap. Topped the prawns with one tablespoon of your Kimchi butter, Kikkoman soy sauce and a sprinkle of sesame seeds.
Fold up the sides of your parchment paper and tie together using bakers twine to make a parcel.
Bake your prawns for 20 minutes until butters melted, and prawns have cooked.
Slice the top of your parcel and tuck in.
Serve with lime wedges.
Print this recipe
See how to make this dish