Cooking at Home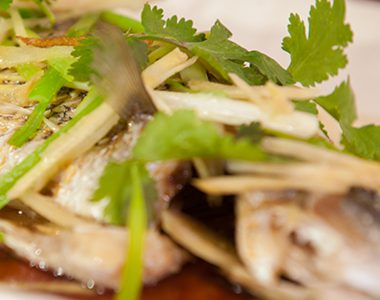 Ingredients
Baby barramundi, whole
10g fresh ginger
1/4 bunch fresh coriander
4 stalks spring onion
1/4 tsp sea salt
50mL vegetable oil
Soy Seasoning
3 tsp. Kikkoman Naturally Brewed Soy Sauce
2 tsp. water
1 tsp. sugar
1/2 tsp. sesame oil
Kikkoman sauce used in this recipe

Naturally Brewed Soy Sauce
TOTAL TIME
30min Cook time
20min Prep time
10min
Steamed Baby Barramundi with Ginger & Coriander Soy
Method
Put a steamer on the boil.
Rinse and dry the baby barramundi, and make a slash on the thickest part of its back. Set aside. Finely slice the spring onion and fresh ginger.
Arrange the fish on a plate, place 2 spring onions under the fish and one slice of ginger inside the belly of the fish.
When steamer is boiling, place the Barramundi within in and steam over high heat for 10 minutes.
Next, make the soy seasoning in a pot and slowly bring to the boil. Once it boils, set aside.
When the fish is ready, remove from the steamer and drain any liquid on the plate.
Arrange the finely cut fresh ginger and spring onion over the fish and drizzle the soy seasoning over the fish.
Optional: heat the vegetable oil in a pot until smoking hot, pour over the steamed fish, spring onion and fresh ginger.
Garnish with sprigs of fresh coriander. Clean plate and serve.
Print this recipe
See how to make this dish