Cooking at Home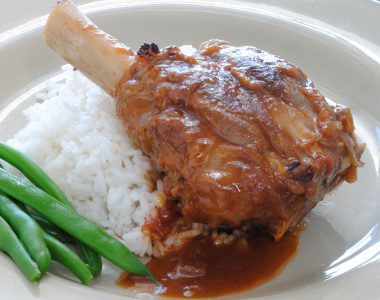 Ingredients
8 large trimmed lamb shanks
2 tablespoons (40mL) olive oil
2 large onions, peeled and sliced
3 garlic cloves, finely sliced
2 cups (500mL) salt-reduced veal or chicken stock
1 x 400g can crushed tomatoes
1/4 cup (60mL) Kikkoman Naturally Brewed Less Salt Soy Sauce
Steamed green beans, to serve
Steamed rice, to serve
Kikkoman sauce used in this recipe

Naturally Brewed Less Salt Soy Sauce
TOTAL TIME
2hrs 40min Cook time
2hrs 30min Prep time
10min
Slow Cooked Lamb Shanks
Method
Preheat oven to 180 deg.C.
Heat oil in a large fry pan over high heat. Brown shanks in batches until browned on all sides. Place shanks in a large shallow casserole dish, in one layer.
Reduce heat to medium and add onions and garlic to fry pan. Cook until soft and golden, taking care not to burn. Add stock, tomatoes and Less Salt Soy Sauce. Pour mixture over lamb shanks and cover casserole tightly with foil. Place in oven and cook for 1 1/4 hours.
Remove foil and cook, uncovered for further 45 minutes or until meat is almost falling off the bone. Transfer shanks to heated plates.
Pour remaining cooking liquid into a shallow fry pan on top of the stove and heat to medium. Simmer liquid for about 7-10 minutes or until reduced slightly. Pour over shanks and serve with the beans and rice.
Key tip
Add even more flavour by marinating lamb shanks in 1 cup Kikkoman Teriyaki Marinade for 1 hour before cooking.
Print this recipe