Cooking at Home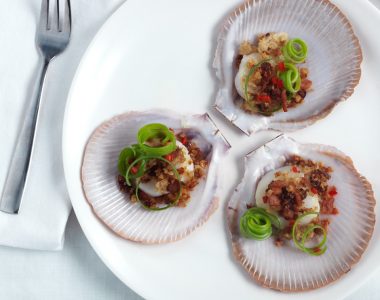 Ingredients
1 tablespoon extra-virgin olive oil
25g fresh panko breadcrumbs
2 rashers bacon, finely diced
2 garlic cloves, finely diced
1/2 Spanish onion, finely diced
40mls Kikkoman Naturally Brewed Soy Sauce, or Kikkoman salt-reduced Soy Sauce
12 scallops on shell, roe removed
1 red chilli, finely diced
3 spring onions, green tops only, finely sliced and in iced water
1 lime, squeezed
Kikkoman sauce used in this recipe

Naturally Brewed Soy Sauce

Naturally Brewed Less Salt Soy Sauce
TOTAL TIME
35mins Cook time
15mins Prep time
20mins
Seared Scallops with Bacon Crumb
Method
Over medium/high heat pan-fry the breadcrumbs in oil until crispy. Remove and set aside.
In the same pan, fry the bacon with garlic and onion, until soft. Return breadcrumbs to the pan and add Kikkoman Naturally Brewed Soy Sauce. Stir to combine. Remove and set aside.
Remove scallops from their shell, reserve shell. In a hot pan, sear the scallops for 30 seconds on each side.
To serve, place the scallops back on the shells, top with 1 teaspoon of bacon mixture, a sprinkle of red chilli and sliced spring onion. Before serving add a squeeze of lime.
Print this recipe