Cooking at Home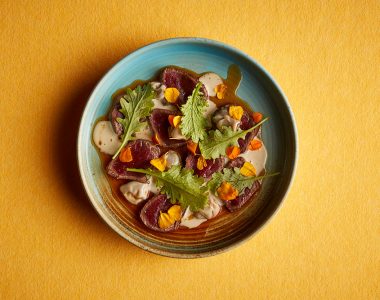 Ingredients
1 Loin Venison
100ml Sake
100ml Mirin
200ml Kikkoman soy
100ml Sesame oil
50ml rice wine vinegar
1 Thumb ginger (washed sliced)
6 Cloves garlic (peeled crushed)
1 Chilli washed (chopped)
6 Coriander root (cleaned chopped)
Smoked Oyster
12 Large oysters
1 Whole egg
1 Yolk
300ml Grapeseed oil
Rice vinegar  (to taste)
Salt  (to taste)
Ponzu base
1 Lemon
1 Lime
½ Grapefruit
2 Oranges
250ml Kikkoman soy
10 x 10cm Kombu sheet
4 tbls Yuzu juice
Ponzu dressing
80ml Ponzu base
60ml Kikkoman soy
10g bonito (flakes)
Kikkoman sauce used in this recipe

Naturally Brewed Soy Sauce
TOTAL TIME
13hrs 5mins Serves
4 Cook time
5mins Prep time
13hrs
Venison Tataki
Method
Firstly prepare the venison by cutting into even sized cylinders. You should get 3-4 even cylinders out of one loin.
Then using a smoking hot pan seal the venison around all sides. Do this in stages so not to overcrowd the pan and reduce the heat.  Once seared remove and place over ice to stop the cooking process.
Once chilled mix all other ingredients together. Then using a vacuum bag seal all ingredients together and leave to marinade for 12 hours.
Remove from the marinade after the 12 hours and slice 2mm thick when needed.
Smoked Oyster:
To smoke the oysters set up a smoker.  Soak peach wood in water for 20 mins. Place into smoker and let them smoulder bring smoker up to 100⁰C, once smoke is built up place oysters into smoker at 100⁰C for 10 mins.
When checking the oysters should have popped open.  Remove and chill oysters over ice.
Remove oysters from their shells.  Reserve half for the plate.
With the other 12, place in blender with egg and yolk.  Begin to blend on a low speed and build momentum.  Slowly pour in grapeseed oil to emulsify season with rice vinegar and salt as needed.  Place into a squeezy bottle
Burnt Citrus Ponzu:
Thinly slice all citrus. Using a blowtorch burn all the citrus. Using a damp cloth wipe down the kombu.  Place in a half gastro and lay the citrus slices on top. Cover with the Kikkoman soy and leave in a warm place for 12 hours.
After 12 hours remove the citrus and kombu from the soy squeezing as much juice out as possible and add the yuzu juice.
Ponzu dressing:
Bring ponzu and soy to a simmer, add bonito and remove from heat infuse for 30 minutes then strain through filter. Reserve until needed.
Finishing the dish:
To bring the dish together place 8 slices venison on the plate well-spaced. Fill in the gaps on the plate with 2 smoked oysters cut into quarters. Randomly add the oyster emulsion then dress generously with ponzu.
Finish with wasabi mustard and marigolds.
Print this recipe
See how to make this dish