Cooking at Home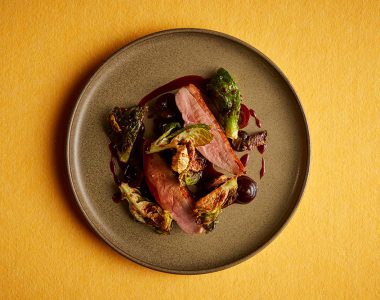 Ingredients
4 Duck Breast
100ml Soy sauce
100ml Sake
Burnt soy sauce
200ml Kikkoman soy
200ml Mirin
70 Rice vinegar
40g Honey
Sour cherries
24 Cherries (halved and seed removed)
50ml Luxado
50ml Rice vinegar
Port and Nori Gel
Nori Soy Infusion
5 sheets dried nori
500ml Kikkoman soy
750ml Tawny port
215ml Nori soy infusion
1.2% agar  – (1.2% of total weight of port reduction and nori infusion)  e.g – port reduced to 325ml, 500ml soy infusion – 825ml = 9.9g Agar
Kikkoman sauce used in this recipe

Naturally Brewed Soy Sauce
TOTAL TIME
14hrs 20mins Serves
2 Cook time
35mins Prep time
13hrs 45mins
Duck
Method
Marinade breast in soy and sake for 1 hour.  Remove from marinade and leave to dry out in fridge for 12 hours.
Remove sinew and tender loin. Trim off excess fat and score skin.
In a cold non-stick pan over a low heat place duck breast in pan skin side down.  Slowly render the fat draining any excess as you go.  Gradually increase heat slightly then flip breast over to seal flesh side.
Place back on skin side and place into oven at 180⁰C cook breast to internal temperature of 52⁰C.
Remove from oven and leave to rest for 5 minutes before serving.
Burnt soy sauce
Bring all ingredients to boil, reduce to a glaze consistency.
Sour cherries
Place all in vacuum bag and seal to macerate
Port and Nori Gel
Bring ingredients to a gentle simmer and turn off leave to infuse for 30 minutes.
Strain through chinois, pushing through as much liquid as possible.
Over a bain marie reduce the port by half.  Weigh the port and nori soy infusion together.  Then weigh out 1.2% agar. Bring the port mixture to the boil, whisk in the agar and boil for 2 minutes while continuing to whisk to cook out agar.  Set in a suitable sized container over ice.
Once set remove from container, dice the gel and place in blender.  Blend to a smooth gel. Pass and and keep in bottle for use.
Finishing the dish
While duck breast is resting fry 5 quarters of brussels at 190⁰C in canola oil.  When light golden colour bring out of oil and drain on paper towel.  Be careful when frying brussels as there water content will cause oil to bubble rapidly.
Time the edges of the duck length ways then split in two down the middle.  Showing the duck face up season with pink salt.  Place on plate, add port gel and cherries and brussels in a random order.  Finish with the burnt soy sauce.
Print this recipe
See how to make this dish