Cooking at Home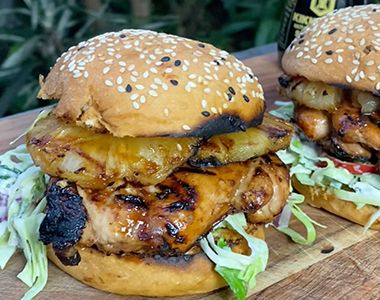 Ingredients
Marinade:
½ cup Kikkoman Naturally Brewed Soy Sauce
1 cup pineapple juice (from the can)
2 tbs ketchup
2 tbs brown sugar
2 tbs red wine vinegar
2 tbs spiced rum
2 garlic cloves, grated
Burger:
4 large chicken thighs
8 slices canned pineapple
4 brioche burger buns
Salad:
¼ green cabbage thinly sliced
½ red onion thinly sliced
1 long red chilli thinly sliced
1 handful coriander roughly chopped
1 handful mint leaves roughly chopped
½ cup Japanese Mayonnaise
1 ½ tbs lemongrass paste
½ lime juice
Kikkoman sauce used in this recipe

Naturally Brewed Soy Sauce
TOTAL TIME
30mins Serves
4 Cook time
15mins Prep time
15mins
Hulli Hulli Burger
Method
Place all marinade ingredients in a large bowl, mix together then scoop out ⅓ cup and place to side for basting.
Place chicken thighs in marinade and leave in the fridge for minimum 1 hr, overnight is best. Place all salad ingredients in a bowl, and mix through. In a small bowl place Japanese mayonnaise, lime juice and lemongrass paste, stir and pour over salad and mix through.
Preheat BBQ, making sure it's nice and hot.
Cook chicken thighs for 5 minutes, baste and then turn. Repeat for another 5 minutes.
Baste again, and turn again until the marinade caramelises. Take off the heat and let rest.
Place pineapple slices on the BBQ, baste and turn, cooking for approx 5-8 minutes or until caramelised.
To serve:
Cut burger buns in half.
Place burger buns on the BBQ to toast.
On the bottom bun place a handful of the salad, chuck on a chicken thigh and two slices of pineapple.
Place the top of the burger bun on and enjoy!
Recipe by @brentdraper_
Print this recipe