Cooking at Home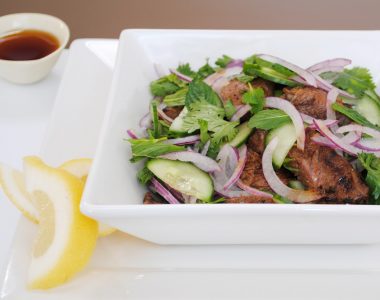 Ingredients
4 lamb shanks
2 tablespoons (40mL) olive oil
700g beef sirloin, cut into thin strips
80mL vegetable oil
1 red onion, halved and thinly sliced
1 Lebanese cucumber, thinly sliced
1 cup coriander leaves, torn
1 cup mint leaves, torn
Chopped roasted peanuts (optional) to serve
Marinade
3cm piece ginger, chopped
2 cloves garlic, sliced
2 long red chillies, seeded and chopped
2 lemons, zested and juiced
2 tablespoons (40mL) fish sauce
1/4 cup brown sugar
1/2 cup (125mL) Kikkoman Teriyaki Marinade & Stir-Fry Sauce
Kikkoman sauce used in this recipe

Teriyaki Marinade & Stir Fry Sauce
TOTAL TIME
30mins Cook time
10mins Prep time
20mins
Thai Beef Salad
Method
To make the marinade, process ginger, garlic, one of the chillies, lemon zest and juice, fish sauce and brown sugar in a food processor until finely chopped. Add the Teriyaki Marinade to this mixture and mix well. Place beef in a large, flat non-metallic dish, pour over marinade, cover and refrigerate to marinate for 1/2 hour.
Add 2 tablespoons of the oil in a large wok over high heat. Add half the beef mixture and stir-fry for 3 minutes until beef is browned, but just cooked through. Remove from wok and repeat with the remaining oil and beef mixture.
Place onion, cucumber, coriander and mint leaves, remaining chilli, beef mixture in a large bowl and toss to combine. Top with roasted peanuts if using.
Serve with rice stick noodles or steamed rice, if desired.
Key tip
You can make the marinade up to a day before and refrigerate until required. Do not add the beef at this stage.
Print this recipe