Cooking at Home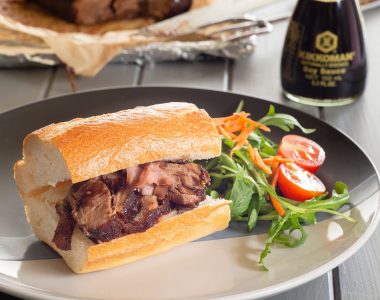 Ingredients
1kg raw beef brisket, trimmed,
2 tablespoons peanut oil
6 garlic cloves, thinly sliced
2cm-piece fresh ginger, peeled, thinly sliced
500ml low sodium beef stock
100 ml Kikkoman soy sauce
50 g butter
50 g brown sugar
Store-bought Sauerkraut or Kimchi
Bread rolls
Soy marinade
1 cinnamon stick
2-star anise
1 teaspoon dried chilli flakes
60ml rice wine vinegar
60 g brown sugar
80ml Kikkoman Soy Sauce
50 ml Kikkoman teriyaki sauce
Kikkoman sauce used in this recipe

Teriyaki Marinade & Stir Fry Sauce

Naturally Brewed Soy Sauce
TOTAL TIME
1hr 45min Serves
10 Cook time
1hr 30min Prep time
15min
Soy Glazed Beef Brisket with Soy Caramel & Fermented Cabbage
Method
Combine all the Soy Marinade ingredients in a 20cm x 30cm baking dish. Add brisket and turn to coat. Marinate, covered, in the fridge for 4 hours or overnight if you have time. Bring to room temperature.
Preheat oven 180 degrees or BBQ to a moderate heat
In a separate pan heat the peanut oil with garlic and ginger, Take the brisket out of marinade and place on a plate discarding the marinade and sear off the marinaded brisket in the with the garlic and ginger. When all sides are seared off, pour in beef stock until it comes halfway up the meat. Wrap the meat dish in foil and leave with the lid closed and turn down the heat on the BBQ for 40 mins, In the oven cook for 45 mins with foil covered.
Meanwhile reduce the soy, butter and sugar to a nice syrupy consistency. Set aside for later.
Turn the brisket over and you may need some more stock or water to top up and recover with foil and cook for a further 40 mins. Take off the heat and allow to rest. Do not get rid of the liquid
Prepare the rolls or buns ready add sauerkraut or kimchi in bowls with soy caramel.
Shred the brisket with a fork in the pan you cooked with including all the reaming parts of stock mixing in the pan. Place shredded brisket on a role with fermented cabbage and some soy caramel and serve.
Print this recipe