Cooking at Home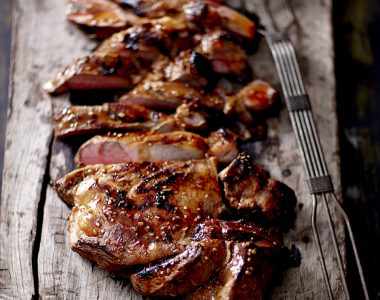 Ingredients
2 kg leg lamb, boned, butterflied and trimmed of fat (see note)
1 cup (250mL) Kikkoman Soy Sauce
1 tablespoon (20mL) garlic, grated
3 tablespoons (60mL) rice vinegar
1/2 tablespoon (10mL) olive oil
Juice 1 lemon
1 tablespoon (20mL) ginger, grated
1/2 cup onion, finely chopped
1 teaspoon chilli flakes
Kikkoman sauce used in this recipe

Naturally Brewed Soy Sauce
TOTAL TIME
2hrs 45min Cook time
30min Prep time
2hrs 15min
Barbecued Butterflied Leg of Lamb with Asian Flavours
Method
For the marinade*, combine the rice vinegar, olive oil, lemon juice, Kikkoman Roasted Garlic Marinade & Stir Sauce, ginger, onion and chilli flakes and mix to combine.
Place lamb in a large, flat non-metallic dish and pour over the marinade, turning to coat. Cover with plastic wrap and place in refrigerator for 2 hours** to marinate, turning once.
Pre-heat barbecue grill on moderately high heat. Remove lamb from refrigerator and pat dry with paper towels to help prevent burning. Reserve marinade.
Barbecue lamb for 10-12 minutes each side, or until cooked to your liking, basting from time to time with the reserved marinade.
Transfer meat to a carving board and allow it to rest for 15 minutes before slicing.
Key tip
The sweet and sour salsa can be made the day before, stored in the refrigerator, then gently heated when needed.
* Tip: marinade can be made the day before and refrigerated until needed.
**Tip: marinate lamb for 4-6 hours or overnight in refrigerator for a deeper flavour.
Print this recipe