Cooking at Home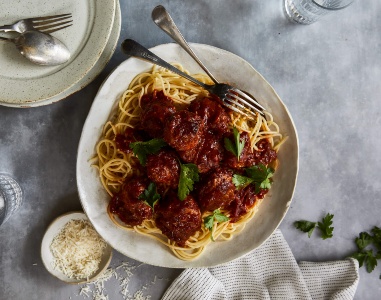 Ingredients
Meatballs
450g pork mince
200g beef mince
1/2 cup Kikkoman Panko Bread Crumbs
1/2 small brown onion, finely diced
2 cloves of garlic, crushed and finely diced
2 tsp fennel seeds
2 whole eggs, lightly beaten
2 tbs whole milk
2 tbs Kikkoman Naturally Brewed Soy Sauce
Red Sauce
1/4 cup extra virgin olive oil
1/2 small brown onion finely diced
10 cloves garlic, crushed and chopped
2 tbs Kikkoman Naturally Brewed Soy Sauce
700g tomato passata
To Serve
500g spaghetti, cooked as per packet instructions
Finely grated parmesan cheese, to serve
Freshly ground black pepper, to taste
Flat leaf parsley, to garnish
Kikkoman sauce used in this recipe

Naturally Brewed Soy Sauce

Panko Breadcrumbs
TOTAL TIME
1 hr 40 mins Serves
4 Cook time
1 hr 20 mins Prep time
20 mins
Spaghetti Meatballs
A classic dish and a family favourite all year round. Using Kikkoman Panko Crumbs gives a super light and fluffy meatball and for me, the addition of the soy sauce into the red sauce gives a perfect umami flavour which compliments the tomatoes really well. The whole family will love this simple tasty recipe.
Method
Step 1
Kick things off with the red sauce. Place a large heavy based saucepan over medium heat. Add olive oil and onion. Cook for 5-7 mins until onion softens and is aromatic. Add garlic and cook for a further 3-5 mins (you don't want to get any colour on the onion or garlic). Pour over Kikkoman Soy Sauce and tomato passata. Stir well and reduce to a very gentle simmer. Cook covered for 60 mins while preparing the meatballs.
Step 2
To make the meatballs, add all ingredients into a large mixing bowl. Using your hands gently bring together the mixture until well combined, taking care not to over work the mix. Take tablespoonful amounts of mince and then mix and roll into balls, repeat until all mince has been rolled, then place on a lined tray or plate in single layer. Put in fridge for 30 mins to chill.
Step 3
Heat a large frying pan or skillet over medium heat. Add meatballs and cook in batches until golden brown all over. Repeat until all meatballs are cooked. Place in red sauce and simmer gently for 10-15 mins to warm through.
Step 4
To serve, place pasta in a large serving dish, top with meatballs, a sprinkle of parmesan cheese, cracked black pepper and parsley sprigs.
Key tip
Don't over work the meatball mix – makes the meatballs tough.
Using soy as a seasoning – don't always need salt – brings out flavour of other ingredients – adds a certain "meaty-ness" (umami)
Make ahead of time – freeze the meatballs – save the sauce –

make big batches for family.
Print this recipe
See how to make this dish