Cooking at Home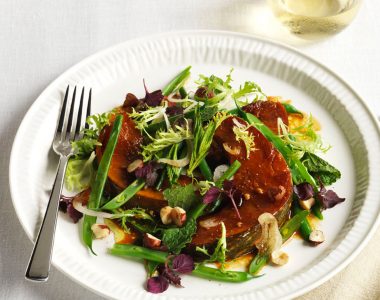 Ingredients
1/2 small pumpkin, cut into 1.5cm thick wedges
40ml Kikkoman Naturally Brewed Soy Sauce
20g honey
1 garlic clove, finely chopped
1 tsp smoked paprika
30ml light olive oil
200g baby beans, trimmed
1 1/2 cups (loosely packed) baby spinach leaves
1 cup (loosely packed) frisee
1/2 cup coarsely torn mint
1 punnet shiso cress, trimmed (optional)
2 golden shallots, thinly sliced
Soy Dressing
50ml light olive oil
30ml red wine vinegar
25ml Kikkoman Natually Brewed Soy Sauce
1 1/2 tsp. Dijon mustard
1/2 garlic clove, finely chopped
Pinch of sugar, to taste
Kikkoman sauce used in this recipe

Naturally Brewed Soy Sauce
TOTAL TIME
55mins Cook time
40mins Prep time
15mins
Soy Roast Pumpkin Salad
Method
Preheat oven to 180C. Combine pumpkin, Kikkoman Soy Sauce, honey, garlic, paprika and olive oil in a large bowl, season to taste with freshly ground pepper, stir to coat then spread on a roasting tray lined with baking paper and roast, turning occasionally, until tender and slightly darkened on the edges (35-40 minutes). Set aside until required (serve warm or at room temperature).
Meanwhile, blanch beans in a saucepan of boiling salted water until bright green and just tender (2-3 minutes), drain, refresh under cold running water, drain well and combine in a bowl with spinach, mizuna, shiso and shallot. Refrigerate until required.
For soy dressing, whisk ingredients in a separate bowl to emulsify, season to taste with freshly ground pepper, drizzle two-thirds over bean mixture and toss lightly to combine.
Arrange pumpkin wedges on serving plates, drizzle with remaining dressing, then pile salad on top and serve.
Print this recipe