Cooking at Home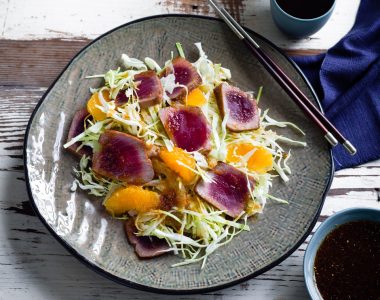 Ingredients
1 tsp (5mL) ground fennel seeds
2 tsp finely grated orange rind
1 tbsp. (20mL) orange juice
80mL (1/3 cup) Kikkoman Naturally Brewed Soy Sauce
800g piece tuna, skin removed
1 tbsp. olive oil
1 tbsp. mirin
1 tsp caster sugar
1 tsp sesame oil
1 tsp finely grated ginger
1 small fennel bulb, thinly sliced
2 spring onions, thinly sliced
1 orange, peeled, segmented
200g (2 cups) shredded savoy cabbage
Kikkoman sauce used in this recipe

Naturally Brewed Soy Sauce
TOTAL TIME
1hr 30mins Cook time
5mins Prep time
1hr 25mins
Seared Tuna, Fennel & Orange Salad with Soy Dressing
Method
Combine fennel seeds, orange rind, juice and 60mL Kikkoman Soy Sauce in a large bowl. Add tuna and turn to coat well. Cover with plastic wrap and refrigerate for 1 hour.
After 1 hour, remove the tuna from marinade and coat in the olive oil. Set aside.
Meanwhile, place remaining 20mL soy sauce, mirin, sugar, sesame oil and ginger in a jug and stir to combine.
Heat a frying pan over high heat until very hot and sear tuna for 1 minute on each side or until browned. Cool, and then cut into 5mm-thick slices.
Place fennel, spring onions, orange segments and cabbage in a bowl. Add half the soy and mirin dressing. Toss to combine.
Serve salad with tuna, drizzled with remaining dressing.
Print this recipe