Cooking at Home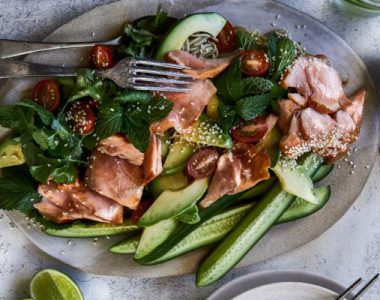 Ingredients
4 x 200g salmon fillets, skin on*
270g Green Tea Soba Noodles*, cooked as per packet instructions, refreshed under cold water.
2 ripe avocado, halved and sliced
2 lebanese cucumbers, cut into spears
200g cherry tomatoes, halved
1 bunch coriander, sprigs
1 bunch mint, leaves only
2 limes, cut into cheeks, to serve
1 tbs white sesame seeds, to serve
Soy Tahini Dressing
1 tbs Kikkoman Naturally Brewed Gluten Free Soy Sauce
3 tbs tahini
1 tbs rice wine vinegar
2 tsp honey
1 tsp sesame oil
Glaze
4 tbs Kikkoman Naturally Brewed Gluten Free Soy Sauce
2 tbs Shiro Miso
1 tsp honey
1 tsp gochujang*
1 tsp Sesame oil
1 tbs hot water
Kikkoman sauce used in this recipe

Naturally Brewed Gluten Free Soy Sauce
TOTAL TIME
30min Serves
4 Cook time
10min Prep time
20min
Honey Soy Glazed Salmon Salad
Summer is here and that means fresh, vibrant and punchy salads for those hot days and nights and this dish delivers just that. Pack it out with herbs from your garden or mix and match your favourites, you can get a little creative with this one, the hero is the perfectly cooked soy glazed salmon.
Method
Step 1.
Prepare the soy tahini dressing by placing all ingredients into a small jar with water tight lid, shake well until dressing comes together and is smooth and creamy. Place in fridge until serving.
Step 2.
For the soy glaze, combine in a medium bowl, mixing well until a smooth paste forms. If you think it is too thick, add a little more hot water. Placing salmon on a large dish, pour glaze over salmon and using a pasty brush, brush over all the salmon fillets until coated.
Step 3.
Heat a large nonstick frypan over high heat. Cook the salmon in batches for 2-3 mins* on each side until slightly golden and evenly charred. Repeat with remaining fillets, setting aside until time to assemble.
Step 4.
Build the salad in a large serving dish layering noodles, salmon, along with veg and herbs, finally dressing with the soy tahini dressing and serving with lime wedges and a sprinkling of sesame seeds.
Notes
* You can also use skin off salmon.
* Gochujang is a fermented chili paste used in Korean cooking. As an alternative, use sambal oelek or chilli flakes.
* Use buckwheat only Green Tea Noodles to ensure meal is GF.
* Vary the salmon cooking time to suit your taste. Ideally a nice pink centre is what you are looking for.
Key tip
Making dressings – balance – using soy as a seasoning / umami element
Cooking fish – fish will keep cooking when it comes off the heat
Kikkoman Gluten Free Soy Sauce is naturally brewed, using whole rice instead of whole wheat.
Print this recipe
See how to make this dish
Hayden Quinn