Cooking at Home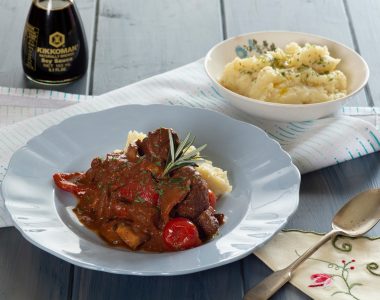 Ingredients
2 tablespoons olive oil
2 onions, finely chopped
200g field mushrooms, sliced
2 garlic cloves, crushed
3 kiwi fruit, pulped
800 g kangaroo fillets or beef, diced in 2cm cubes
2 tablespoons flour
1 (400 g) can diced tomatoes
1 cup red wine
1 cup Kikkoman Soy sauce
1 red capsicum, seeded & diced or sliced
1 tbsp chopped flat-leaf parsley (garnish)
1 tbsp chopped rosemary (garnish)
Mash potato for serving either bought or your favourite recipe.
Kikkoman sauce used in this recipe

Naturally Brewed Soy Sauce
TOTAL TIME
2hrs 20min Serves
4 Cook time
2hrs Prep time
20min
Kiwi Soy-Braised Kangaroo Casserole with Mash Potato
Method
Preheat oven to 180 deg C
In a large, heavy-based frying pan heat 2 teaspoons of oil over high heat. Add onion, mushrooms and garlic and sauté for 5 minutes, or until soft. Transfer to a large, ovenproof dish (with lid). Add pureed kiwi fruit to kangaroo and marinate for 5 mins.
Once kangaroo and kiwi have marinated lightly coat the meat in flour. Heat remaining oil in a frypan and cook meat, in batches, until well browned. Transfer to a dish with onion mixture.
To the frying pan add tomato, wine, soy sauce and capsicum and gently bring to a boil. Now add this to the casserole dish and stir till combined.
Place in the oven for between 1.5 hours (kangaroo) – 2 hours (beef). Remove lid and cook for a further 30 minutes, or until meat is tender.
To serve place casserole on top of the mash and add herbs and seasoning to taste.
Print this recipe