Cooking at Home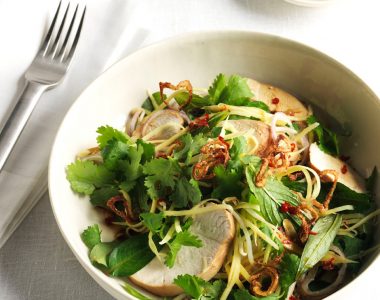 Ingredients
250 ml (1 cup) Kikkoman Naturally Brewed Soy Sauce*
3 large slices ginger
2 red birds-eye chillies, halved
1 garlic head, halved
Juice of 1 lime
2 skinless chicken breast fillets
1 green mango, cut into julienne on a mandolin
3/4 cup each (loosely packed) coriander sprigs, mint and Vietnamese mint
3/4 cup bean sprouts, trimmed
2 red Asian shallots, thinly sliced
Fried shallots (optional), to serve
Soy-Lime Dressing
30g caster sugar
40ml fish sauce
30ml Kikkoman Naturally Brewed Soy Sauce
20ml fish sauce
1 red bird-eye chilli, finely chopped (or to taste)
1 garlic clove, finely chopped
Kikkoman sauce used in this recipe

Naturally Brewed Soy Sauce

Naturally Brewed Less Salt Soy Sauce
TOTAL TIME
50mins Cook time
30mins Prep time
20mins
Soy-Poached Chicken & Green Mango Salad
Method
Combine Kikkoman Soy Sauce, ginger, chilli, garlic, lime juice and 1 litre cold water in a saucepan, add chicken, then bring just to the boil over medium-high heat. Reduce heat to low and simmer for 10 minutes. Remove from heat, stand in liquid for 10 minutes, then drain and slice.
For soy-lime dressing, stir sugar and 30ml hot water in a small bowl to combine, then add lime juice, Kikkoman Soy Sauce, fish sauce, chilli and garlic and stir to combine, set aside.
Combine remaining ingredients in a bowl and toss to combine. Slice chicken, add to salad with dressing, toss to combine and serve.
*This can be replaced with Kikkoman Less Salt Soy Sauce.
Print this recipe