Cooking at Home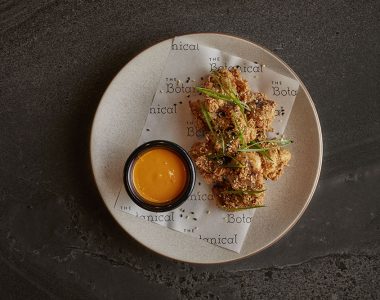 Ingredients
Karaage marinated chicken
500 gms Chicken thigh
10 gms Garlic
10 gms Ginger
50 ml Less salt Kikkoman soy sauce
50 ml Mirin
5 ml Sesame oil
100 gms Tapioca flour
2 lt Cooking oil
Kimchee mayo
15 gms Kimchee base sauce (you can fine this in most Asian grocery stores)
100 gms Japanese style mayo
5 ml Lemon juice
Garnish ingredients
2 gms Sesame seeds
Half a stalk of finely sliced green shallots
Kikkoman sauce used in this recipe

Naturally Brewed Less Salt Soy Sauce
TOTAL TIME
25mins Serves
2-3 Cook time
10mins Prep time
15mins
Karaage Chicken & Kimchi Mayo
Method
Karaage marinated chicken Method
Dice chicken thigh into 6 pieces each thigh and add to a large mixing bowl.
Grate garlic and ginger into the bowl and add the rest of the ingredients mixing well to combine.
Set aside in the fridge to marinate for at least 2 hours.
To cook
In a tall, sided frying pan heat oil to 160C
Drain any excess liquid from chicken and dust in the tapioca flour
Fry chicken for around five minutes depending on the size of the chicken or until slightly golden and cooked through.
Set aside on some tissue paper to drain excess oil.
Kimchee Mayo Method
Combine all ingredients together and mix well in a mixing bowl
To plate
In a plate place to cooked chicken to one side, season with salt, top with shallots and sesame and serve with a side of the kimchee mayo.
Print this recipe
See how to make this dish