Cooking at Home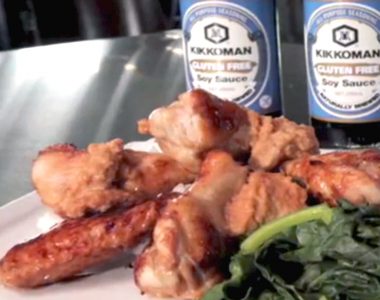 Ingredients
Chicken and Spinach
4 tbsp. Kikkoman Gluten Free Soy Sauce
4 tbsp.mirin
4 tbsp. ginger juice made by grating ginger and squeezing out the juice
1kg free range chicken nibbles
4 handfuls washed spinach leaves
Rice to serve
Peanut Sauce
1 cup roasted, unsalted peanuts
3 tablespoons Kikkoman Gluten Free Soy Sauce
1/4 cup mirin
Kikkoman sauce used in this recipe

Naturally Brewed Gluten Free Soy Sauce
TOTAL TIME
55min Cook time
30min Prep time
25min
Gluten Free Chicken Nibbles with Spinach & Peanut Sauce
Method
Preheat the oven to 200degC.
Pour the Kikkoman soy sauce, mirin and ginger juice into a large dish and add the chicken. Mix well and marinate for at least 20 minutes, or overnight.
Put the marinated chicken in a roasting pan and place in the oven for 25 minutes or until well cooked.
Turn the chicken nibbles a couple of times as they cook.
If the chicken looks like it might burn, cover with a piece of foil until done.
When you are ready to serve, drop the spinach into boiling water for 10 seconds so that it just wilts then drain well.
Put the spinach on a warm serving platter with the steamed rice. Add the chicken to the platter and dollop with the peanut sauce.
To make the peanut sauce, pound or grind the peanuts until smooth and stir in the Kikkoman soy sauce and mirin. Thin with a little water if needed.
Print this recipe