Cooking at Home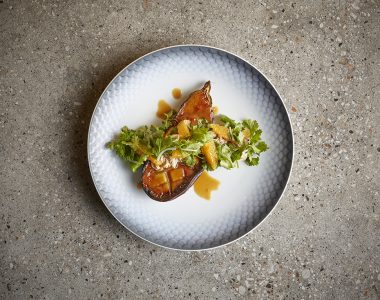 Ingredients
1 Eggplant (Aubergine)
2 Tbsp Miso Paste
1 Tbsp Sesame seeds
2 tbs Kikkoman Soy
1 Tbsp Mirin
2 Tbsp Sake
1 Orange
3 Radishes
1 serve of soba noodles
1/4 cup fresh coriander and mint
Kikkoman sauce used in this recipe

Naturally Brewed Soy Sauce
TOTAL TIME
35mins Serves
2 Cook time
25mins Prep time
10mins
Miso Eggplant
Method
First slice your eggplant in half then cut a deep chris-cross in the fresh on the eggplant.
On a hot pan sear the eggplant flat side down until golden and nicely caramelized.
To make the Miso glaze combine Miso paste, sesame seed, mirin, and sake into a bowl and mix. Spoon this over your eggplant making sure the glaze penetrates between the earlier cuts.
Place the eggplant in the baking tray and bake in the preheat oven at 180C for 20 minutes (time will vary depending on how big your eggplant is).
For the last 10 minutes pour the Kikkoman Soy onto the eggplant and finish baking.
For our salad cook soba noodles as directed on the package, segment an orange, finely slice your radishes (use a Japanese mandolin if you have one) and pick a handful of mint and coriander.
Plant your eggplant with salad on top.
Print this recipe
See how to make this dish