Cooking at Home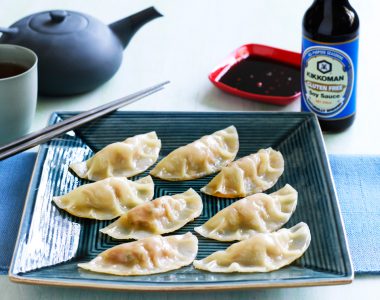 Ingredients
Wrappers*
300g cooked, peeled taro*
3 tsp baking powder
1kg glutinous rice flour*
2 tbsp. vegetable oil
Pork filling
400g lean minced pork
1 cup finely shredded Chinese cabbage (wombok)
1 tsp sesame oil
1 tbsp. Kikkoman Naturally Brewed gluten-free soy sauce**
3cm-piece ginger, peeled, grated
2 garlic cloves, crushed
Dipping sauce
80mL (1/3 cup) Kikkoman Naturally Brewed gluten-free soy sauce**
2cm piece ginger, peeled, grated
1 tsp sesame oil
1 red birds-eye chilli, chopped
Kikkoman sauce used in this recipe

Naturally Brewed Gluten Free Soy Sauce
TOTAL TIME
1hr Cook time
15min Prep time
45min
Gluten-Free Pork Gyoza
Method
To make the wrappers, process taro in a food processor with 1 tbsp. salt and baking powder. With the motor running, add a little water, then a little flour. Repeat, alternating with water and flour until you have used 500mLs of water and all the flour, and mixture forms a dough. Turn out onto a lightly floured surface and knead for 5 minutes or until smooth. Rest for 30 minutes.
Roll out dough on a lightly floured surface until 2mm thick. Using a 7cm round cutter, cut the wrappers into 20 rounds.
To make the pork filling, combine all the ingredients in a bowl.
Spoon 1 teaspoonful of the filling into the centre of each wrapper. Brush edges with water and fold wrappers over filling, pressing edges together to seal.
Heat half the oil in a large frying pan over high heat. Reduce heat to medium_high and cook half the gyozas for 1 minute or until bases are browned.
Add 125mL hot water, cover and cook for 4 minutes, adding more water, if necessary.
Remove from heat. Uncover and stand for 1 minute or until gyozas come away from pan easily. Repeat with remaining oil and gyozas.
Meanwhile, to make dipping sauce, place all ingredients into a bowl and stir to combine.
Serve gyozas with dipping sauce on the side.
Key tip
*Available from Asian food shops. An alternative to making the wrappers it to buy them pre-made from Asian Grocery.
**Kikkoman Naturally Brewed Soy Sauce can be used as an alternative to Kikkoman Naturally Brewed Gluten Free Soy Sauce
Print this recipe