Cooking at Home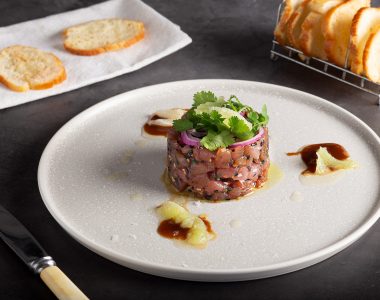 Ingredients
480g tuna loin
20g pickled ginger roughly diced
5 g chopped parsley
1 tbsp honey
6 tbsp Kikkoman less salt soy sauce
2 lime, juice one and segment one
2 tbsp sesame oil
2 tbsp sesame seeds, toasted
2 tbsp black sesame seeds,
12 slices toasted sourdough slices
few sprigs fresh coriander leaves, to garnish
Kikkoman sauce used in this recipe

Naturally Brewed Less Salt Soy Sauce
TOTAL TIME
15min Serves
4 Prep time
15min
Soy Tuna Tartare with Sourdough
Method
Remove and discard any dark parts from the bloodline of the tuna. Finely dice the remaining tuna and place in a large bowl. Stand the bowl on ice to keep chilled.
Add the ginger and the chopped parsley to the tuna and mix well.
In a separate bowl mix together the honey, soy sauce, lime juice, sesame oil and toasted and black sesame seeds.
When ready to serve mix together the tuna and sauce mix. Mix well.
To serve, press the tuna tartare into a 7cm tall ring or pipe on each serving plate. Carefully remove the ring, arrange the toast and lime wedges around the tartare.
Print this recipe