Cooking at Home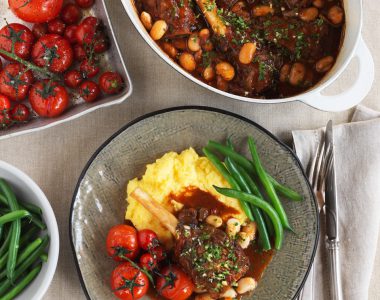 Ingredients
6 lamb shanks
1 tbsp. flour
1/2 tsp. freshly ground black pepper
1 tbsp. olive oil
1 red onion, cut into wedges
400g can chopped tomatoes
3 cups (750mL) beef stock
1/4 cup (60mL) Kikkoman Naturally Brewed Soy Sauce
1 tbsp. soft brown sugar
1 tbsp. fresh rosemary leaves
2 tsp. fresh thyme leaves
400g can butterbeans
For the Gremolata
1 tbsp. finely grated lemon rind
1/4 cup finely chopped flat-leaf parsley
2 garlic cloves, chopped
To serve
Soft polenta
Roasted truss tomatoes
Steamed green beans
Kikkoman sauce used in this recipe

Naturally Brewed Soy Sauce
TOTAL TIME
3hrs 45min Cook time
3.5hrs Prep time
15min
Braised Lamb Shanks with Gremolata
Method
Dust the lamb shanks in the flour and pepper, and shake off any excess.
Meanwhile, heat oil in a large frying pan and brown lamb in batches. Transfer to a large ovenproof casserole dish.
Add onion to frying pan and cook over medium heat until soft and golden. Add tomatoes, stock, Kikkoman Naturally Brewed Soy Sauce and sugar. Bring to the boil. Pour mixture into the casserole dish and add the rosemary and thyme.
Cook for 3 hours or until shanks are meltingly tender. Fold through butterbeans and heat through.
Combine grated lemon rind, parsley and garlic in a small bowl.
Serve lamb shanks on soft polenta, sprinkled with gremolata. Accompany with roasted truss tomatoes and steamed green beans.
Key tip
Variation: You could cook this for 6-8 hours in a slow-cooker adding the butterbeans for the last hour.
Print this recipe