Cooking at Home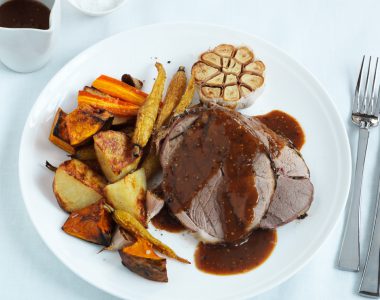 Ingredients
Marinade
5 cloves garlic, minced
125mls Kikkoman Naturally Brewed Soy Sauce
20g rosemary, finely chopped
20mls extra virgin olive oil
1.2 kg leg of lamb
Roasted Vegetables
1 bunch heirloom carrots, washed and trimmed
1/2 pumpkin, cut into wedges
4 Desiree potatoes cut into wedges
1 head garlic, cloves separated
Jus
Cornflour
50g seeded mustard
40mls Kikkoman Naturally Brewed Soy Sauce
Kikkoman sauce used in this recipe

Naturally Brewed Soy Sauce
Kikkoman Lamb Roast
Method
Marinade the lamb in garlic, Kikkoman Soy Sauce rosemary and olive oil.
Roast to desired degree of doneness.
Combine vegetables with olive oil, sea salt and pepper and toss.
Roast vegetables with garlic cloves.
To complete, deglaze the pan juices with hot stock, mustard and, Kikkoman Soy Sauce and thicken with cornflour.
Serve lamb with roasted vegetables and jus.
Key tip
Mixing Kikkoman Soy Sauce and the pan juices from the roast lamb makes a robust and rich jus. This recipe would work with any cut of lamb or beef.
Print this recipe