Cooking at Home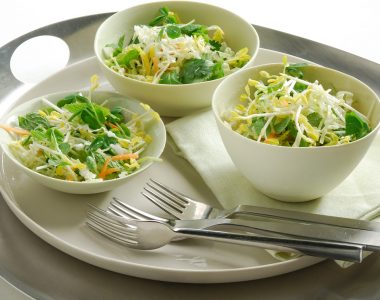 Ingredients
1/2 Chinese cabbage, finely sliced
125g snow pea shoots, coarse stems removed
1 1/2 carrots, peeled and julienned
1/4 cup mint leaves
1/4 cup coriander leaves
Dressing:
1/4 cup lime juice
1 tablespoon (20mL) fish sauce
1 tablespoon canola oil
1 tablespoon low GI sugar or regular sugar
1/2 tablespoon Kikkoman Naturally Brewed Gluten Free Soy Sauce or Kikkoman Naturally Brewed Soy Sauce
Cracked black pepper, to taste
Kikkoman sauce used in this recipe

Naturally Brewed Soy Sauce
TOTAL TIME
25mins Prep time
25mins
Coleslaw with a difference
Method
For the dressing, whisk together the dressing ingredients in a small bowl. Set aside.
Combine the coleslaw ingredients in a large bowl.
Gently toss with dressing. Place in small individual bowls, to serve.
Print this recipe