Cooking at Home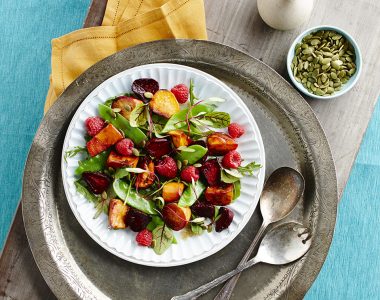 Ingredients
Roasted sweet potatoes and beets:
750g sweet potatoes, peeled and roughly cut
1 bunch baby beets, washed, trimmed and cut in half
3 tbsp Kikkoman Less Salt Soy Sauce
Juice of 1 lemon
1 tsp chilli flakes, or to taste
2 cloves garlic
2 tsp sesame oil
1 tbsp vegetable oil
Dressing:
1 tsp Kikkoman Less Salt Soy Sauce
1 tbsp apple cider
1 tbsp mirin
3 tbsp peanut or vegetable oil
Salad:
100g snow peas, blanched
100g mixed fresh greens
1 punnet raspberries
50g pumpkin seeds
Kikkoman sauce used in this recipe

Naturally Brewed Less Salt Soy Sauce
TOTAL TIME
40min Cook time
20min Prep time
20min
Roasted Sweet Potato & Beet Salad
Method
To make the roasted vegetables, place all of the ingredients in a large bowl and toss to combine. Place vegetable mix on a baking paper lined tray and bake in a pre-heated 200C oven for 20-30 minutes or until tender. Set aside to cool.
Meanwhile, make the dressing by combining ingredients in a small bowl. Whisk to combine.
To serve, arrange all ingredients on a serving platter. Drizzle with the dressing and serve immediately.
Print this recipe