Cooking at Home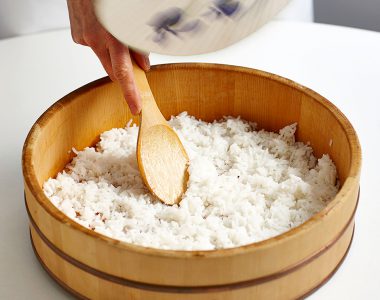 Ingredients
3 cups (600g) sushi or shortgrain rice
3 cups (750ml) water
Sushi vinegar
1/2 cup (125ml) rice vinegar
2 tablespoons (40g) caster sugar
1/4 teaspoon salt
TOTAL TIME
30min
Sushi Rice
Making sushi rice at home is a piece of cake, with the right technique. Here's a step-by-step process for making the best sushi rice from scratch, just like the sushi restaurants in Japan.
Method
Place rice in a large bowl and fill with enough water to cover the rice. Gently stir with hand for about 30 seconds, then drain. Repeat the process 3 times until the water is almost clear. Drain rice in a fine mesh sieve (or line a colander with a teatowel) and leave for 30 minutes.
Place rice and measured water into a rice cooker and turn on. Once cooked and rice cooker switches to "keep warm" setting, leave covered for 15-20 minutes.
If cooking rice in a saucepan: put rice and measured water in a medium saucepan. Bring to the boil, lower to simmer, cover and cook for 15 minutes. Turn heat off and leave covered a further 15-20 minutes.
Meanwhile make sushi vinegar by placing vinegar, sugar and salt in a small saucepan and heating over a low temperature until sugar dissolves, stirring occasionally. Leave to cool.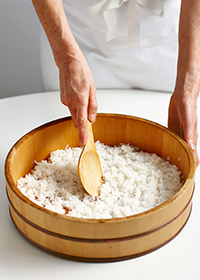 Spread hot rice into a large, preferably wood or glass (but non-metallic), flat-bottomed bowl or tub.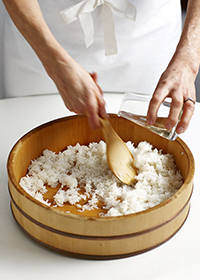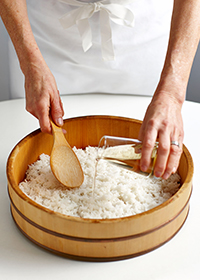 Slice (not stir) through the rice with a wooden paddle or plastic spatula, at a sharp angle, to break up the clumps and separate the grains, gradually pouring in the sushi vinegar at the same time. Not all vinegar may be required; the rice should not become too wet or mushy.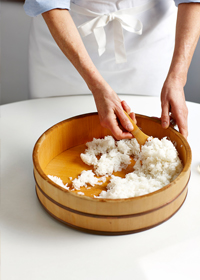 Continue to slice through the rice, lifting and turning the rice from the outside into the centre (like folding egg whites into a cake).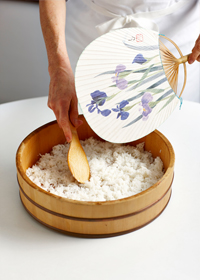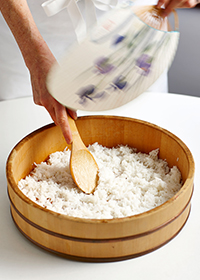 Meanwhile with the other hand, fan the rice until it is almost cool, about 5 minutes, or until room temperature. An electric fan on low speed could be used for this instead but be careful not to over-cool or the rice will harden. Fanning makes the rice glossy and sticky but separate grains.
Cover with a damp cloth to stop it from drying out while making sushi.
Key tip
1 measuring cup = 200g rice; 1 rice cup (usually supplied with rice cookers) = 150g rice.
Print this recipe