Cooking at Home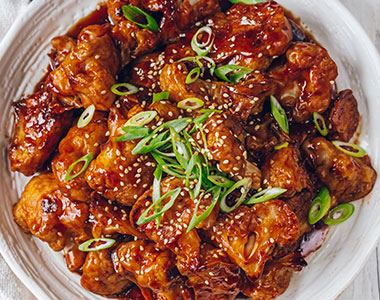 Ingredients
1 head of cauliflower
1 cup plain all-purpose flour
1/2 tsp salt
1/4 tsp ground black pepper
1 cup water
1 tsp finely grated garlic
1/4 cup kikkoman Naturally Brewed Soy Sauce
1/3 cup maple syrup
1 tbsp tomato paste
1 tbsp rice wine vinegar
2 tsp sesame oil
2 tsp cornflour
1/4 cup water
Garnish
Green onions
Sesame seeds
Kikkoman sauce used in this recipe

Naturally Brewed Soy Sauce
TOTAL TIME
45mins Serves
4 Cook time
30mins Prep time
15mins
Sticky Sesame Soy Cauliflower
Method
Preheat the oven to 200°C and line a large baking tray.
Separate the cauliflower into individual florets. Wash, dry and set aside.
In a large mixing bowl, add in the flour, salt and pepper. Gradually whisk in the water until it creates a smooth batter.
Add in the cauliflower and toss well to coat. Transfer onto the baking tray, ensuring the pieces don't touch or overlap. Bake for 30 minutes, flipping at the halfway mark for even cooking.
In the meantime, heat a pan over medium high heat and add in a splash of oil. Fry the garlic for 1-2 minutes until golden then add in the soy sauce, maple syrup, tomato paste and rice wine vinegar. Mix well to combine and gently simmer for 1 minute.
Add in the sesame oil and mix together the cornflour and water before pouring into the pan. Cook on medium heat until thickened.
Turn off the heat and add in the cauliflower. Toss well to coat.
Transfer to a plate and garnish with green onions and sesame seeds. Enjoy while hot and crispy!
Print this recipe