Cooking at Home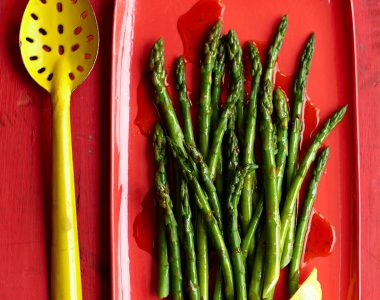 Ingredients
2 bunches green asparagus, tough ends trimmed
Lemon wedges, to serve
For the Dressing:
1 1/2 tablespoons (30mL) vegetable oil
1 teaspoon (5mL) rice vinegar
1/2 teaspoon grated ginger
1 teaspoon (5mL) lemon juice
1 _ tablespoons (30mL) Kikkoman Less Salt Soy Sauce
Kikkoman sauce used in this recipe

Naturally Brewed Less Salt Soy Sauce
TOTAL TIME
14mins Cook time
4mins Prep time
10mins
Steamed Asparagus with Lemon Dressing
Method
Combine all dressing ingredients and mix well. Set aside.
Steam asparagus until just tender _ about 4 minutes. Remove, and cool slightly.
Place asparagus on a large serving platter or on individual serving plates and drizzle over the sauce.
Serve with lemon wedges.
Print this recipe