Cooking at Home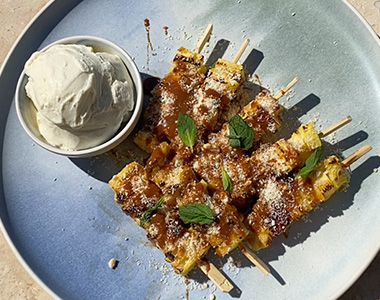 Ingredients
1 Pineapple cut into large chunks
2 tbsp Kikkoman's Naturally Brewed Soy Sauce
40g Palm Sugar grated
¼ cup Coconut cream
¼ cup Desiccated coconut
¼ cup Blitzed salted peanuts
Fresh mint leaves to serve
Vanilla Bean Ice-Cream to serve
8 Wooden skewers
Kikkoman sauce used in this recipe

Naturally Brewed Soy Sauce
TOTAL TIME
25mins Serves
4 Cook time
20mins Prep time
5mins
Soy Caramel Roasted Pineapple Skewers
Method
Soak wooden skewers in warm water for 30mins.
Place pineapple pieces on skewers and leave to the side.
Coconut Crumb
Place the coconut and blitzed peanuts on a frying pan until fragrant and lightly toasted.
Kikkoman's Soy Caramel Sauce
Melt palm sugar in a frying pan on medium heat until it turns to liquid and starts to bubble and darken.
Add the coconut cream to the frying pan and whisk. Keep cooking whilst bubbling then take off heat and add soy sauce and whisk in until dark and glossy.
Pineapple Skewers
With a pastry brush, brush the sauce over the pineapple skewers and place on medium heat on a BBQ, turning very regularly and basting with the Kikkoman's Soy Caramel Sauce, until slightly charred, juicy and tender.
To serve
Place skewers on a plate and sprinkle with toasted coconut and peanuts.
Generously drizzle the caramel sauce on top.
Throw some mint on top and serve with vanilla bean ice cream.
Print this recipe