Cooking at Home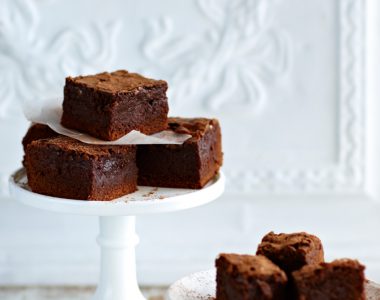 Ingredients
250g butter
200g dark chocolate, coarsely chopped
1 3/4 cups (350g) tightly packed brown sugar
4 eggs, lightly beaten
2 tsp Kikkoman Naturally Brewed Soy Sauce
1 1/3 cups (200g) plain flour
1/3 cup (35g) cocoa powder
1/4 tsp baking powder
Fresh berries, vanilla yoghurt or ice cream (optional) to serve
Kikkoman sauce used in this recipe

Naturally Brewed Soy Sauce
TOTAL TIME
1hr Cook time
35min Prep time
25min
Chocolate Brownie Slice
Method
Melt butter and chocolate in a small saucepan over a low heat, stirring, until melted and smooth.
Place sugar, eggs and soy sauce in a large bowl. Add melted chocolate and mix until combined.
Sift flour, cocoa and baking powder over the chocolate and stir to combine.
Pour mixture into a 23cm square cake tin lined with baking paper and bake in a moderate oven (180°C/fan forced 160°C) for 30-35 minutes or until set. Cut into serving size squares.
Serve warm or cold with fresh berries, vanilla yoghurt or ice cream if desired.
Print this recipe