Cooking at Home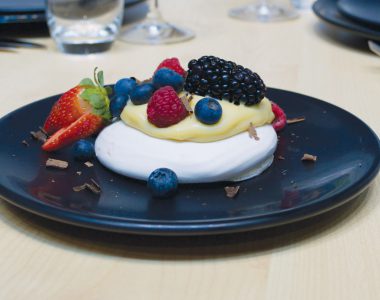 Ingredients
400g can chickpeas
1/2 teaspoon cream of tartar
1/2 teaspoon white vinegar
1 cup icing sugar mixture, sifted
1 teaspoon vanilla extract
White chocolate soy sauce cream
200g white chocolate, broken into pieces
½ cup thickened cream, at room temperature
2 teaspoons Kikkoman Soy Sauce
Fresh berries, to serve
Grated dark chocolate, to serve
Kikkoman sauce used in this recipe

Naturally Brewed Soy Sauce
Serves
6
Egg-Free Meringue with White Chocolate Soy Sauce Cream
These egg-free meringues are made from the liquid in a can of chickpeas (surprising right?). You'll be amazed at how sweet and crunchy they are and taste as good as the real thing.
Method
Step 1.
Preheat oven to 120°C/100°C fan-forced. Line 2 baking trays with baking paper. Using a pencil and an 8cm round cutter as a guide, mark 6 circles, 4cm apart, on each piece of baking paper. Line 2 large baking trays with the baking paper, marked-side down.
Step 2.
Drain chickpeas over a bowl to reserve the liquid (you'll need 2/3 cup liquid). Transfer chickpeas to an airtight container and store in the fridge for another use (or use in the BBQ Steak with Chickpea Salad recipe).
Step 3.
Using an electric mixer, beat chickpea liquid for 5-8 minutes or until mixture is white and foamy and soft peaks form. Add cream of tartar and vinegar and beat until combined. Gradually beat in sifted icing sugar, 1 tablespoon at a time, until stiff, glossy peaks form. Beat in vanilla.
Step 4.
Spoon half the mixture into a piping bag fitted with a 1cm fluted nozzle. Using the marked circles as a guide, pipe mixture onto 1 prepared tray in a circular motion to form discs. Repeat process to form a second layer on top. Using the back of a teaspoon, smooth tops. Repeat with remaining mixture and prepared tray.
Step 5.
Bake meringues for 2 hours or until just firm to touch. Turn off oven. Cool for 30 minutes in oven with door closed. Cool completely in oven with door ajar. (This can be done ahead and meringues stored in an airtight container.)
Step 6.
To make the white chocolate cream: Melt chocolate in a bowl over simmering water or microwave on medium heat in 30 second bursts, stirring occasionally. Stir in room temperature cream, then soy sauce, and stir until well combined. If chocolate starts to set, reheat mixture gently, stirring until mixture comes together. Refrigerate until required.
Step 7.
To assemble meringues: Spoon chocolate mixture onto meringues. Top with fresh berries and grated chocolate. Serve immediately. Egg-free meringue with white chocolate soy sauce cream
Print this recipe