Cooking at Home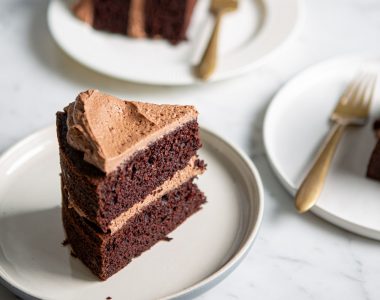 Ingredients
125g unsalted butter, softened
1 cup (220g) firmly packed brown sugar
6 large free-range eggs
1 cup (250ml) milk (ensure at room temperature*)
1 tablespoon vanilla extract
3 cups (260g) almond meal
1 cup (140g) white rice flour
1 cup (75g) unsweetened cocoa powder
2 teaspoon baking powder
2 teaspoon baking soda
Pinch sea salt
Soy Buttercream
250g unsalted butter, room temperature
3 cups (400g) icing sugar
4 tablespoons unsweetened cocoa powder
2 tsp maca powder
1 -2 tablespoons Kikkoman's Gluten Free Soy Sauce
2 tablespoons milk
Kikkoman sauce used in this recipe

Naturally Brewed Gluten Free Soy Sauce
TOTAL TIME
1hr 10mins Serves
16 Cook time
40mins Prep time
30mins
Gluten-Free Choc Layer Cake with Choc-Soy Buttercream
Method
Preheat an oven to 180℃ and grease and line two 20cm cake tins with baking paper (or you can use the one cake tin and bake twice).
Add the butter and brown sugar to a large mixing bowl. Beat with an electric beater until creamed. Add the eggs one at a time and continue to beat until well incorporated. Add the milk and beat until combined.
Add in the almond meal, rice flour, cocoa powder, baking powder, baking soda and pinch of sea salt. Use a wooden spoon to fold the ingredients together to create a smooth batter. Divide the batter between the two prepared cake tins. Place into the oven and bake for 30-40 minutes, or until an inserted toothpick comes out clean. Remove from the oven and allow to cool before removing from the cake tins and placing onto a wire rack to finish cooling. Once cooled, slice off the "dome" off one of the cakes, this will be the bottom cake.
While the cakes are cooling, make your Soy Buttercream. Add the butter to a mixing bowl and beat with electric beaters until pale and fluffy. Add in the icing sugar, cocoa powder, maca and milk. Beat on low speed to combine, then beat on high for about 1 minute, until well combined and fluffy. Add 1 tablespoon of Kikkoman's Gluten-Free Soy Sauce and beat through the icing. Give the icing a taste and add a little more, 1 teaspoon at a time until you're happy with the subtle soy flavour. Use the frosting to frost the top of the "domed" cake, then place the second cake on top. Use the remaining frosting to frost the top of the cake. Slice and serve immediately.
Key tip
Egg and milk note: Adding cold milk or cold eggs will solidify the butter and cause clumps in your batter, so make sure you use room-temperature milk and eggs to your batter so the batter incorporates perfectly!
The frosting will last up to 1 week in the fridge when covered tightly with cling wrap.
Print this recipe
See how to make this dish