Cooking at Home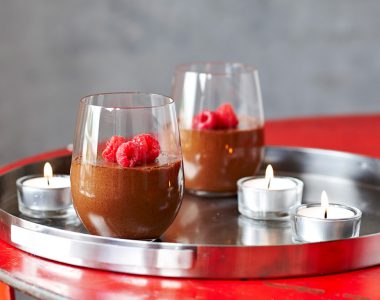 Ingredients
185g dark cooking chocolate
120mL (1/2 cup) full cream milk
1 tablespoon freeze-dried espresso coffee
1 egg yolk, whisked
2 teaspoons Kikkoman Naturally Brewed Soy Sauce
4 egg whites, beaten
Pinch cream of tartar
2 tablespoons sugar
Fresh strawberries or raspberries, to serve
Kikkoman sauce used in this recipe

Naturally Brewed Soy Sauce
TOTAL TIME
75min Cook time
45min Prep time
30min
Salted Chocolate Mousse
Method
Chop chocolate into small pieces and place in a bowl large enough to contain all the ingredients and the folding process. Place the bowl over a saucepan of simmering water to melt the chocolate, making sure the water is kept to a simmer.
In a separate saucepan, gently bring the milk to a boil and whisk in the espresso powder until completely dissolved. Pour over the melted chocolate and gently whisk. Add the egg yolk and soy sauce, and whisk until fully incorporated.
Beat egg whites on medium speed until they reach medium peak stage. Increase speed to high and gradually add sugar and cream of tartar in a steady stream until egg whites are firm and glossy.
Using a large rubber spatula, add 1/3rd of the egg whites to the chocolate mixture and gently fold in to combine and lighten. Gently fold in remaining egg whites until there are no streaks in the chocolate mixture.
Place mixture into 4 individual glasses or pots, or into one large bowl. Chill for 45 minutes before serving.
Key tip
Cream of tartar helps increase volume of egg whites.
Can be made up to 2 days in advance, but mixture won't be as light.
For easier pouring into glasses or pots, transfer mixture to a jug with a good pouring lip.
Print this recipe