Cooking at Home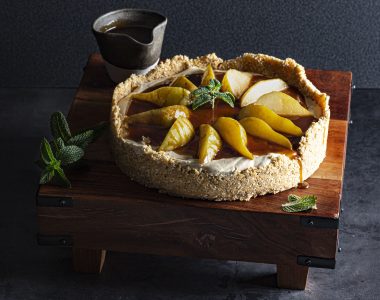 Ingredients
1 1/2 x 250g packets plain biscuits
125g butter, melted
2 teaspoons gelatine powder
2 tablespoons water, boiling
300ml thickened cream
375g cream cheese, softened
1/3 cup caster sugar
2 tablespoons Kikkoman Naturally Brewed Soy Sauce,
300ml thickened cream, whipped, extra
oil for drizzling
20g extra butter
3 pears, peeled, quartered lengthways, cored
Soy Caramel
60g unsalted butter
1/3 cup brown sugar
1/3 cup Kikkoman Naturally Brewed Soy Sauce
1/3 cup thickened cream
Kikkoman sauce used in this recipe

Naturally Brewed Soy Sauce
TOTAL TIME
28 mins Serves
10 to 12 Cook time
8 mins Prep time
20 mins
Soy Caramel Roasted Pear Cheesecake
Method
Grease a 4cm-deep, 24cm round (base) loose-based, round cake tin.
Pre-heat oven to 180 degrees.
Place peeled pears on an oven tray, drizzled with a little oil and 20g butter and roast pears for 15 to 20 mins, set aside and allow to cool.
Place biscuits in a food processor. Process until fine crumbs form. Add butter. Process until combined. Press mixture into base and side of prepared tin. Refrigerate for 30 minutes.
Sprinkle gelatine over boiling water in a small heatproof jug. Whisk with a fork until the gelatine has dissolved. Set aside to cool.
Meanwhile, using an electric mixer, beat cream until just-firm peaks form. In a separate bowl, beat cream cheese, sugar and soy sauce for 2 to 3 minutes or until smooth. Beat gelatine mixture into cream cheese mixture. Fold in whipped cream. Pour into the prepared tin. Refrigerate for 6 hours or until filling is firm or is set.
Meanwhile, make Soy Caramel; Place butter, sugar, soy sauce and cream in a large frying pan over medium heat. Cook for 2 minutes or until melted and combined. Bring to a simmer. Add cooked pears, stirring them into the sauce, for 2 to 3 minutes then reduce heat and simmer sauce for a further 3 to 4 minutes or until slightly thickened. Set aside and allow to cool.
Just before serving cheesecake, arrange pears in sauce on top of the cheesecake and serve with extra whipped cream.
Print this recipe