Cooking at Home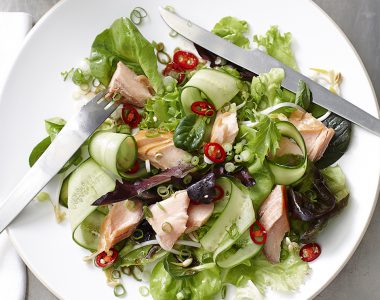 Ingredients
200g mixed salad leaves, washed
1 cup bean sprouts, roots removed
3 Lebanese cucumbers, sliced into ribbons with a vegetable peeler
3 spring (green) onions, thinly sliced
3 x 150g Hot Smoked Salmon*, broken into bite sized chunks
1 medium long red chilli, thinly sliced
Lemon wedges, to serve
Asian Dressing:
2 tablespoons (40mL) Kikkoman Naturally Brewed Soy Sauce*
2 tablespoons (20mL) rice vinegar
2 tablespoon (20mL) mirin
1 tablespoon (20mL) fish sauce
1/2 tablespoon vegetable oil
Kikkoman sauce used in this recipe

Naturally Brewed Soy Sauce
TOTAL TIME
15min Prep time
15min
Hot Smoked Salmon Mixed Leaf Salad with Sweet Soy Dressing
Method
To make the Asian dressing, combine all ingredients in a small screw top jar and shake well. Set aside until required.
Arrange salad leaves on a large platter, or individual plates. Top with bean sprouts, cucumber, green onion and Hot Smoked Salmon chunks.
Drizzle dressing sparingly over the top.
Sprinkle with sliced red chilli. Serve with lemon wedges (optional).
Key tip
Note: Dressing can be made the day before and stored in refrigerator until needed.
*Variation: Kikkoman Less Salt Soy Sauce or Kikkoman Gluten Free Soy Sauce may be substituted if desired.
*Hot Smoked Salmon is available from supermarkets and fishmongers
Print this recipe