Cooking at Home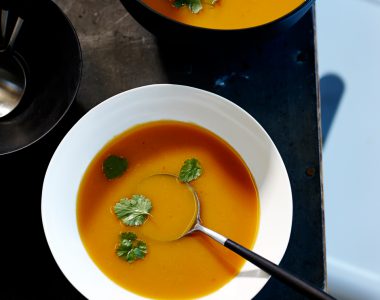 Ingredients
75mL vegetable oil
2 cloves garlic, crushed
2 onions, finely chopped
1 teaspoon red curry paste (adjust to 1tbsp for spicier flavour)
800g orange-coloured sweet potatoes, peeled and chopped
4 cups (1L) salt reduced chicken stock
2 sticks lemon grass, bruised to release flavor
2 cups (400mL) coconut cream
1 tablespoon (20mL) fish sauce
2 tablespoons (40mL) Kikkoman Less Salt Soy Sauce
2 tablespoons (40mL) fresh lime juice
Coriander leaves, to garnish
Kikkoman sauce used in this recipe

Naturally Brewed Less Salt Soy Sauce
TOTAL TIME
1hr 15min Cook time
1hr Prep time
15min
Sweet Potato Soup with Thai Flavours
Method
Heat oil in a large saucepan. Add garlic and onion and cook over medium heat for about 10 minutes or until onion is golden, taking care not to burn.
Add curry paste and stir for 1 minute until it smells fragrant. Add sweet potato, stock, lemongrass and coconut cream, bring to the boil, then reduce heat and simmer for 30-45 minutes or until sweet potato is tender.
Remove from stove and allow to cool slightly. Remove lemongrass and discard. Blend soup in batches until smooth.
Add fish sauce, Less Salt Soy Sauce and lime juice to soup just before serving, stirring in gently.
Place in individual soup plates. Top with coriander leaves.
Key tip
This recipe can be made the day before and refrigerated until needed. Add coriander just before serving.
Variation: substitute sweet potato for pumpkin if desired.
Variation: for a lighter consistency, substitute coconut cream for coconut milk if desired.
Print this recipe