Cooking at Home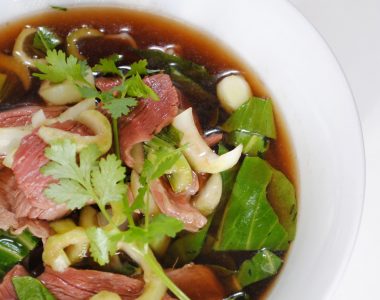 Ingredients
4 cups (1L) beef stock
4 cups (1L) water
1 tablespoon (20mL) Kikkoman Less Salt Soy Sauce*
3cm piece ginger, grated
3 whole star anise
2 cinnamon sticks
250g dried thick rice noodles
2 teaspoons (10mL) fish sauce
1 bunch baby bok choy, stems separated
400g beef fillet, very thinly sliced
Coriander leaves, to serve
Kikkoman sauce used in this recipe

Naturally Brewed Less Salt Soy Sauce
TOTAL TIME
40mins Cook time
25mins Prep time
15mins
Beef, Bok Choy & Noodle Broth
Method
Place beef stock, water, Kikkoman Naturally Brewed Less Salt Soy Sauce, grated ginger, star anise and cinnamon sticks into a saucepan. Bring to the boil over medium heat. Reduce heat and simmer for 15 minutes.
Meanwhile, cook noodles according to packaging directions. Drain, then divide among 4 serving bowls.
Trim bok choy leaves from stems, and slice stems finely. Coarsely chop coriander leaves.
Strain the stock mixture into a heat-proof bowl, discarding cinnamon sticks, star anise. Transfer the stock back into a saucepan and simmer over a medium heat.
Stir in fish sauce and bok choy stems. Cook for 1 minute then remove from heat. Stir in bok choy leaves and beef. Ladle soup over the noodles and top with coriander leaves.
Key tip
Substitute with Kikkoman Naturally Brewed Soy Sauce or Kikkoman Naturally Brewed Gluten Free Soy Sauce if desired.
Print this recipe