Cooking at Home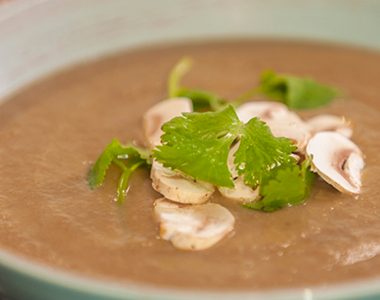 Ingredients
2 tbs. rice bran oil
1 onion, finely chopped
1 tsp. cumin powder
1 tsp. coriander powder
1 tsp. garam masala
500g button mushrooms, sliced
1 kestrel potato, peeled and cut into 6
600ml vegetable stock
1 cup water
3/4 cup coconut milk
1 tbsp. Kikkoman Naturally Brewed Soy Sauce
Kikkoman sauce used in this recipe

Naturally Brewed Soy Sauce
TOTAL TIME
40mins Cook time
30mins Prep time
10mins
Spiced Mushroom Soup
Method
Heat oil in a large pot and add the onions, cumin powder, and coriander powder and garam masala. Cook for a few minutes until the onion have softened.
Add the mushrooms and potato and stir to ensure everything is coated in the onion and spices.
Add the vegetable stock, water and coconut milk and bring to the boil. Turn down the heat to a simmer and cook for 15-20 minutes or until the potatoes are completely cooked through.
To finish add soy sauce to taste. Using a stick blender puree soup until smooth and silky.
Optionally, serve with freshly shaved mushroom, sprigs of coriander and a side of naan bread.
Print this recipe
See how to make this dish