Cooking at Home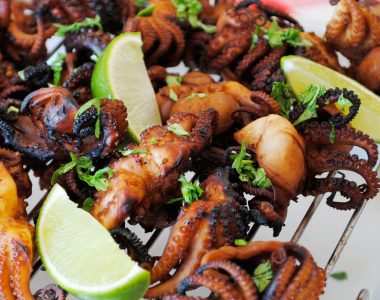 Ingredients
1.2 kg baby octopus, cleaned
1/4 cup Kikkoman Less Salt Soy Sauce
1/4 cup Kikkoman Sweet Chilli, Ginger & Soy Marinade & Sauce
1/4 cup tomato sauce
1 cup coriander leaves, chopped
Kikkoman sauce used in this recipe

Sweet Chilli, Ginger and Soy Marinade and Stir Fry Sauce

Naturally Brewed Less Salt Soy Sauce
TOTAL TIME
40mins Cook time
10mins Prep time
30mins
BBQ Octopus with Sweet Chilli Sauce
Method
Place octopus in a non-metallic bowl with Soy Sauce, Sweet Chilli Sauce and tomato sauce. Stir to combine, and marinate in mixture for 10 minutes.
Heat barbecue grill to high, remove octopus from sauce mixture and cook for 5-6 minutes, turning occasionally until cooked and slightly charred. Do not burn.
Place on a serving platter and top with chopped coriander.
Print this recipe