Cooking at Home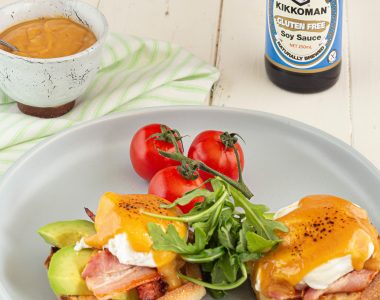 Ingredients
1 tablespoon rice wine vinegar
2 egg yolks
150g butter, melted, cooled
1 tablespoon lemon juice
60ml Kikkoman soy sauce
4 eggs
100g streaky bacon
2 English muffins, cut in half
Avocado, thinly sliced, to serve
Kikkoman sauce used in this recipe

Naturally Brewed Soy Sauce
TOTAL TIME
18min Serves
2 Cook time
10min Prep time
8min
Egg & Bacon Benedict with Soy Hollandaise
Method
For the hollandaise sauce, combine the vinegar and egg yolks in a food processor, very slowly adding the butter. Add lemon juice and soy sauce. Transfer to a bowl, cover and leave to sit. ( You can use a prebought hollandaise, just mix in the soy sauce in a blender and heat as normal)
To poach the eggs, fill a saucepan with water to two-thirds full. Add a pinch of salt. Bring to a boil, then reduce to medium-low heat. Stir the water until a whirlpool forms. Break the egg into a saucer, and then slide into the water. Cook, without stirring for 3-4 minutes, depending on desired consistency. Remove to a plate with a slotted spoon. Repeat with remaining eggs.
Cook bacon in a frypan or the oven, cook to the desired texture.
Toast English muffins until golden brown. Top with bacon, avocado and eggs. Drizzle with soy hollandaise sauce. Serve.
Print this recipe