Cooking at Home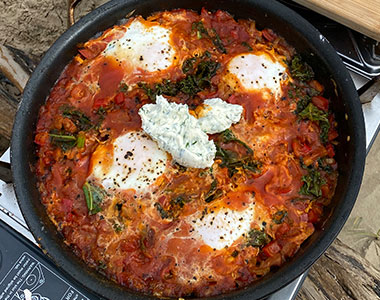 Ingredients
2 tbs Kikkoman Naturally Brewed Less Salt Soy Sauce
1 small onion chopped
1 chorizo chopped
1/2 red capsicum chopped
2 cloves garlic finely diced
1/4 cup finely diced parsley
1/4 cup finely diced coriander
1 1/2 tsp smoked paprika
1/2 tsp cayenne powder (or any chilli powder)
1/2 tsp turmeric
1 1/2 cup kale chopped
400 g diced tomatoes
1/2 cup water
1 cheek of lemon
4 large eggs
1/2 cup cream cheese
2 tbs olive oil
Salt and pepper
Optional flat bread of choice
Kikkoman sauce used in this recipe

Naturally Brewed Less Salt Soy Sauce
TOTAL TIME
35mins Serves
4 Cook time
25mins Prep time
10mins
All Day Baked Eggs
Method
On a medium heat pan add olive oil, add in the onion and chorizo and cook for a minute or so.
Add in red capsicum, finely diced garlic and all dry spices. Stir well and let cook for a few minutes.
Add the kale, diced tomatoes, water and Kikkoman Naturally Brewed Less Salt Soy Sauce.
Stir well and squeeze lemon over the top, simmer for around 2-3 mins.
Make a well using the back of a spoon and crack an egg into the well, repeat with the rest of the eggs. Season with salt and pepper.
Let eggs cook for around 10 mins or until whites are cooked and yolks are still runny (or as desired!).
Meanwhile in a small bowl add cream cheese, fresh parsley and coriander, season with salt and pepper and mix well.
Once eggs are cooked place a large spoon of herb cream cheese in centre.
Grab your favourite bread and divide baked eggs up into 4 equal parts and enjoy!
Print this recipe