Your 'Must-Have' Ingredient for Authentic Asian Cuisine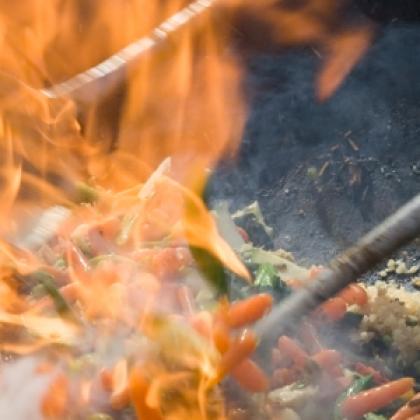 The secret's out when it comes to imparting that authentic Asian touch to your cuisine – Kikkoman Naturally Brewed Soy Sauce is the 'must-have' ingredient for switched-on chefs and foodservice professionals.
Adding Kikkoman Naturally Brewed Soy Sauce to your dishes is the surefire way to give them that otherwise elusive 'umami' – the fifth flavour that the Japanese traditionally describe as 'more than delicious'. It enables you to boost richness, ensuring fully rounded flavour, while avoiding the undesirable addition of MSG.
The complex yet mellow flavour bouquet of Kikkoman Naturally Brewed Soy Sauce ensures it blends well with your other Asian ingredients – enhancing and complementing the flavours of your recipe, but never overwhelming them.
Kikkoman's authentic flavour is due to its being naturally brewed, then aged like a fine wine in the time-honoured Japanese tradition. The fermentation process, which lasts up to six months, releases a high concentration of about 20 different amino acids, which gives Kikkoman Naturally Brewed Soy Sauce its genuine umami flavour.
Some non-brewed soy sauces, produced in only a few days, taste comparatively harsh and can mask and overwhelm the other flavours of a dish. In contrast, Kikkoman Naturally Brewed Soy Sauce will enhance and balance these flavours, while adding a depth and richness that non-brewed soy sauce can't match.
Naturally Brewed Soy Sauce is the flagship of the Kikkoman range, which also includes Less Salt Soy Sauce, Gluten-Free Soy Sauce and a complementary selection of authentic sauces and marinades such as Teriyaki Marinade and Sauce and Thick Teriyaki Marinade and Sauce. All Kikkoman products are free of artificial colours and flavours, and have no preservatives or added MSG.
Kikkoman Naturally Brewed Soy Sauce is one of the most versatile, all-purpose umami ingredients available – allowing you to use it for a wide range of applications. Suitable for pairing with sweet, sour, bitter, savoury and spicy foods alike, Kikkoman Naturally Brewed Soy Sauce is ideal on its own as a dipping condiment or used as a base ingredient within your own recipe, as a marinade, sauce, dressing or stock. And it makes a great alternative to salt, helping reduce sodium levels in menu items while adding enhanced flavour and umami.
The subtle flavour of Kikkoman Naturally Brewed Soy Sauce made up of more than 285 taste and aroma components, will always enhance but never overpower or detract from your dish's main ingredients.