Why Martin Benn Chooses Kikkoman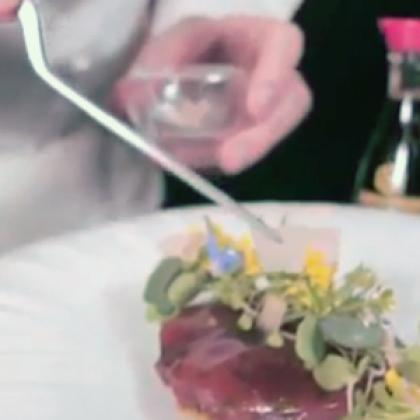 When it comes to flavour, there's no doubt Martin Benn is a chef who knows his stuff. After beginning his career in London at the Oak Room under Michel Lorrain, Martin learned French gastronomy, working at Landmark and Criterion under Marco Pierre White. Following his relocation to Australia, Martin worked at the famed Tetsuya's from 1999, where by age 25 he had reached the esteemed position of Head Chef.
In 2009 Martin opened his own venture, Sepia restaurant in conjunction with partner and business manager Vicki Wild and seafood supplier George Costi of De Costi Seafoods. As you might expect, Sepia's focus is on seafood, but the menu also exemplifies both Martin's training in French cooking as well as a strong Japanese influence, the result of his many years with Tetsuya.
Sepia has enjoyed great popularity, with an award of three chef's hats from the Sydney Morning Herald Good Food Guide – which also named Martin 2011's Chef of the Year and Sepia as 2012 Restaurant of the Year. Martin is always keen to experiment with flavours, fusing multiple cuisine techniques where appropriate. "I like to focus very much upon the product I am using at the time and try not to confuse its taste with overwhelming or dominating flavours, is how Martin explains his approach. "We need to find harmony and balance in how we cook and this is to me what Japanese cooking is really all about.
"Sepia follows this idea and is very much about seafood. I would say 75 per cent of the menu exemplifies what our oceans have to offer. From fish that people commonly know like John Dory and King George Whiting, to deep cold-water fish like Emporador. Also, we have the best shellfish the world has to offer – clams, mussels, scallops, scampi, spanner crabs, crayfish and freshwater marron with its sweet and textural meat.
"I am very blessed to be in business with Australia's best seafood supplier George Costi. This is a great relationship – we get the finest seafood caught, handled and delivered to the highest standard twice daily. I go to see George every morning to see what's best for that day before heading back to the restaurant to prepare for the evening's guests.
With Japanese ingredients forming the basis for much of Sepia's cuisine, Martin is a strong advocate of the Japanese concept of "umami – a distinctive flavour previously undefined in western cooking. "To me, umami is just second nature, Martin says. "I have been using techniques to enhance these flavours now for the past 15 years, doing many of my own studies to achieve this.
"Umami really is about taste – a depth of flavour that is unsurpassed by anything you have ever tasted before. It brings a pleasant savoury taste to the ingredient you add it to – the taste of that ingredient 'comes to life'. As we know umami is now recognised as the fifth flavour after salt, sweet, bitter and sour.
So how does Martin define umami? "The human tongue contains receptors for the four basic tastes but after much study, we have also discovered that it contains other receptors for L-Glutamate – this is the taste of umami.
"Once you understand umami and how to use it in a way of balance and roundness, this will give clarity to the food you serve. With his strong focus on umami, it comes as no surprise to learn that Martin is also a keen proponent of Kikkoman Naturally Brewed Soy Sauce, which is one of the oldest, most versatile umami ingredients. Widely known as 'the chef's secret weapon', its all-purpose applicability delivers authentic umami flavour to a wide range of menu items. Kikkoman Naturally Brewed Soy Sauce isn't just used in fine dining establishments like Martin's – its versatility makes it the ideal choice across a broad range of applications in all types of food service establishments.
"Kikkoman Soy Sauce is naturally brewed and brings taste to whatever you're cooking, Martin says. "Many other soy sauce brands are chemically enhanced to give the flavour, which leads to unbalanced and dominating flavours. Kikkoman Soy Sauce also has a depth of colour that complements the richness of soups and stocks. Martin also uses Kikkoman Soy Sauce in his cooking as a replacement for salt. "It's like using a liquid seasoning so you don't have the granulated texture so you are able to balance a dish much more easily, he explains. Martin uses his dish of Tartare of Yellow Fin Tuna, House Made Goat Milk Fromage Blanc, Miso Mustard, Soy and Ichiban Dashi Jelly with Shaved Katsuobushi as an example of how Kikkoman Soy Sauce complements the flavours of other ingredients. "First we make a miso and mustard paste using miso paste from Kyoto which is sweet and dijon mustard which is slightly spicy. We add the soy so that it seasons the miso, giving it a salt balance.
"We then add some goat's milk fromage blanc for a creamy texture. Next, we season some diced Yellowfin tuna with olive oil and chives, then add the Kikkoman Soy Sauce to coat lightly. The soy brings out the colour of the tuna, making it look pleasing to the eye, and at the same time, it gives the tuna a boost of flavour, which is almost a savoury balance to the fish.
"We top the tuna with a jelly made from what I describe as super umami. We made dashi from kelp and Katsuobushi, then seasoned it with Kikkoman Soy Sauce which gives the stock a rich golden brown colour and a depth of flavour that is unsurpassed. This is then set and placed onto the diced, seasoned tuna. The dish is then finished with cress and flowers to lighten the presentation.
"And as there're several layers, I can use the soy as a seasoning throughout the entire dish. So when you're looking for the 'chef's secret ingredient' to add that elusive fifth flavour of umami to your food – look no further than Kikkoman Naturally Brewed Soy Sauce!
Article courtesy of Food Service Gateway.