Cooking at Home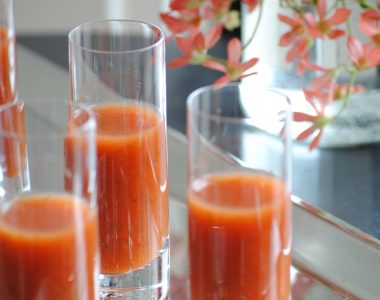 Ingredients
100mL vodka
1/4 cup finely chopped basil
1/2 tin (200g) diced tomatoes
1/4 small red capsicum, peeled, seeded and chopped
1 tablespoon red onion, finely chopped
2 tablespoons (40mL) lemon juice
1 tablespoon (20mL) Kikkoman Teriyaki Marinade & Sauce
1/2 teaspoon salt
10 ice cubes
Tabasco Sauce (to taste)
Optional: 16 fresh oysters
Kikkoman sauce used in this recipe

Teriyaki Marinade & Stir Fry Sauce
TOTAL TIME
15mins Prep time
15mins
Tomato & Basil Shooters
Method
Place all ingredients except vodka and oysters in a blender with 10 ice cubes and blend until smooth.
Add vodka and process until combined.
Divide mixture among the 8 shot glasses. Top each glass with an oyster if using.
Key tip
This recipe can be made up to 2 days before, omitting the oysters which can be added just before serving.
Print this recipe